Te Kotahitanga
Te Kotahitanga: Improving the Educational Achievement of Maori Students in Mainstream Education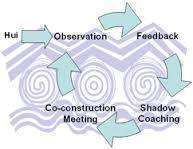 "Kotahitanga" - Unity

Te Kotahitanga is a collaborative response to the rising problem of underachievement among Maori students in mainstream schools. The professional development/research project, which began in 2001, is now in its fourth phase and has involved 33 schools around New Zealand, hundreds of teachers and thousands of Maori students. Massey High School is one of the 12 Phase III schools and currently the largest school in the project. By the end of 2007, 96% of staff members had voluntarily joined the project and were taking part in the professional development. Currently there are now 137 trained teachers at Massey High School. NCEA Level 1 achievement in the 12 Phase III schools has shown some promising results. At Massey High School we believe all Maori students are target students and unlike other schools in the project, teachers of options and senior classes are also observed teaching. The cycle of professional development is not part of the school's appraisal system.

There are a number of resources and information available for Te Kotahitanga. Please see below a range of items:
Visitors
We have many visitors each year to Massey High School, both from New Zealand and abroad, and welcome them openly. If you wish to visit with the Te Kotahitanga team, we ask that you spend some time reading the information about the project on this website, prior to making contact with the team to organise a time and date to visit.
For more information please contact us on (09) 831 0500, or email Mrs Shirley Cranston -
[email protected]