Massey In The Media
Massey In The Media
Our students and staff here at Massey High School are regularly involved in activities in our community. It is our aim to share these stories with you, please see below some of our most recent media stories and images:



27 May 2021 - Yawye are working alongside Massey High to get students developing flavours for the baby food range, and will soon work on some education around production and marketing. Click here to read more.

---


5 March 2021 - Mr Denham on Checkpoint
---
23 October 2020 - Mr Denham on Breakfast:




---
May 2020 - Reflections: Young people on life in lockdown (via RNZ)
---
Mr Denham on Seven Sharp 6 May 2020
"Principals concerned about students falling behind during coronavirus lockdown."
December 2018
Teen Survivor: Westpac Rescue Helicopter Crew 'Saved My Life' - click here for the full article
In February the crew were called to Cascades Falls after siblings Denver and Mitch Woolley and their mates Nathan Phillips, Jason Lee and Sosiveta "Sosi" Turagaiviu got into trouble while swimming.
-
A sudden downpour caused a flash flood in the normally placid creek below the swimming hole. Nathan and Jason were able to swim to the riverbank but the other boys were swept away.
-
Denver managed to hold on to a tree and was eventually winched to safety by the Auckland Westpac Rescue Helicopter.
"They saved my life," the teen survivor told the Herald recently.
Tragically, Mitch and Sosi were killed.
Following the tragedy classmates at Massey High School rallied around in support of the boys. Wanting to recognise the actions of the rescue crew they also held a fundraising gala in October where $10,000 was raised.
That money was enough to sponsor two helicopter rescue missions in honour of the two boys who died.
Today the Herald tells the stories of the people involved in those missions following the school's prizegiving last week where they met Denver and the chopper crew for the first time.
---
November 2018
School Principals Push for Fast-Track, on the Job Teacher Training -
School principals are pushing for expanded, fast-track, on-the-job training programmes to help fix a desperate shortage of new teachers.
The Secondary Principals' Association has asked the Government to expand the existing Teach First NZ scheme, which provides only nine weeks of intensive training before giving trainee teachers control of their own classes.
It has also asked the Ministry of Education to investigate developing more on-the-job training schemes.
Briefing papers released to the Weekend Herald under the Official Information Act show Education Minister Chris Hipkins made an unsuccessful bid to include a contestable fund for new on-the-job training schemes in this year's Budget, and is still driving official work on the proposal. Read the full article here.
---
May 2016 Graffiti Art used to educate High-Schooler's
Our students have been involved in a positive programme which has gained media attention lately. Please click here to view the article about our Graffiti Art students.
---
April 2016 College Sport: Goalie to test skill in global contest
Connor Frith, our Massey High School Year 10 student is doing extremely well with his football, and he is about to embark on a trip to Germany in May where he will be able to showcase his talents in an Under 15 New Zealand team chosen by Wynton Rufer. Please click here to read the article in the NZ Herald.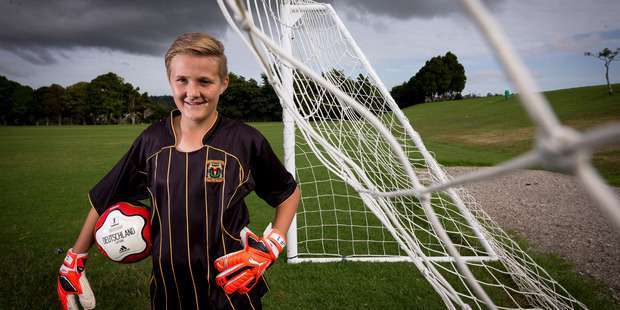 January 2016 Graffiti Workshop Connects Massey High School to Community
In late 2015, nine of our Year 9 and 10 students had the opportunity to work with Bobby Hung (aka Berst) on a Graffiti Art Workshop at the school. This featured in The Western Leader on 12th January, please click here to view the article, and see the video below:


John Key visits Massey High School
In 2015, we were lucky enough to be visited by our Prime Minister, John Key. Our students were extremely impressed with Mr Key, and thoroughly enjoyed the time they got to spend with him. Please see the video below:


Gifted and Talented Conference - Denmark
Renee Buckingham and Lucy De Silva have recently been selling potted plants to try and raise money so Renee can attend the upcoming World Gifted and Talented Conference in Odense, Denmark. We had an article in The Western Leader about this on 4th August. Please click here to read this article.

Massey High School on The 4.30 Show
We were lucky enough to feature on a recent episode of The 4.30 Show on TV2. Please see the video below:



Tall Black's High Ambitions
Our School Principal, Mr Glen Denham recently appeared in the New Zealand Herald. Please click here to read the article.
Share this article: