This is the third instalment of newsletters devoted to Massey High School's move toward integrating Bring Your Own Device ("BYoD") for the majority of our students from 2021. This newsletter sets out some additional information with regard to examples of devices that can be utilised. More importantly, it provides details of the Noel Leeming Group ("NLG") portal – linked to Massey High School, together with information regarding upgrading Windows Home Edition to Education Edition free of charge.
NLG Portal for Massey High School
Attached is a flyer prepared by NLG which provides some indicative examples of good, better, best options for students. Please be aware, that these are not exhaustive, and NLG are currently working to provide an extended range of possible devices.
As previously advised, purchases of devices do not have to be made through NLG – however, our partnership with them provides parents and caregivers with more competitive pricing and access to finance options and insurance.
To access the portal – parents and caregivers can sign up for BYoD Membership at the following link:
www.noelleeming.co.nz/byod-membership
The link directs you to step-by-step instructions. You need only complete the relevant fields and select Massey High School in the drop-down menu when prompted. Alternatively, you can visit the Noel Leeming Westgate store.
Windows Home Edition to Education Edition
As parents and caregivers will see, most laptops sold through retail outlets are sold with the Home Edition of Windows. This in itself is not sufficient for a BYoD device, as the Home Edition is unable to join our Domain at MHS. However, as part of the Microsoft EES agreement, the Home Edition can be upgraded to Education Edition free of any additional cost. Information for doing this is provided on our website.
Future Updates
There will be more newsletters in the New Year, and further updates with regard to suitable devices and deals.
We remind our parents and caregivers of the information contained in the previous newsletter regarding No Interest Loans Schemes.
-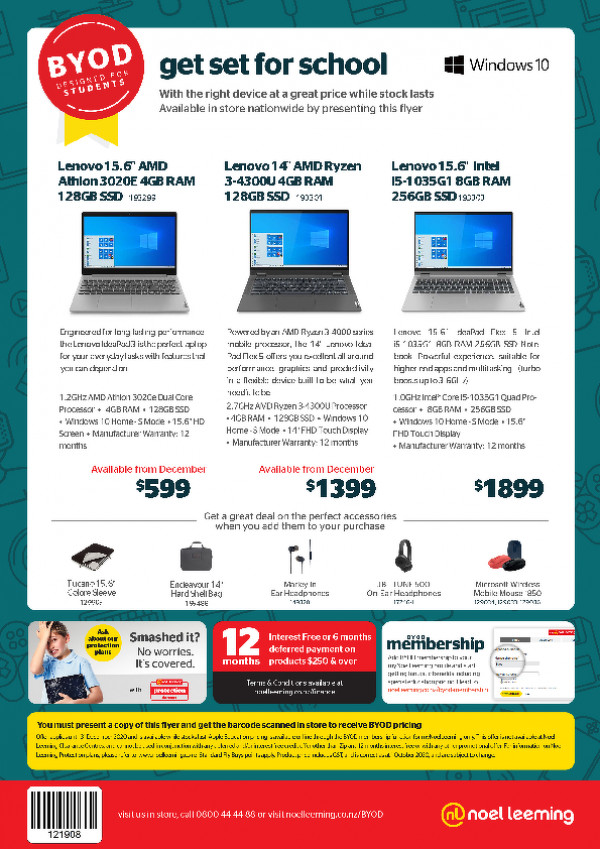 Share this article: