Governing for the Future
Governing for the Future
The Futures of Democracy, Law, and Government – A Symposium. Written by Ms Garratt.
Four Year 13 students; Prathna Govind, Vania Mudaliar, Jay Reilly-Wolfgang, Greer Wilson, and I had the privilege of being invited to attend this symposium by the organiser Professor Mark Hickford, Pro-Vice Chancellor of Government Law & Business (Faculty of Law and Wellington School of Business and Government, Victoria University of Wellington). Ex-Massey student, Professor Hickford, was so impressed by our students following his visit to our school on Friday, September 23rd that he offered to sponsor our attendance at this prestigious event.
We were the only school represented and became the subject of much curiosity amongst the high-profile audience, notably Sir Geoffrey Palmer, Kiri Allan MP and Dame Margaret Wilson. All of whom took the time to introduce themselves (see photos). Not only did we get to interact with individuals who have impacted the direction of law and government in New Zealand, but we were also given a private tour of the Cabinet Room by the Acting Cabinet Secretary, Rachel Hayward where we were shown a variety of medals and honours.
This is what Jay had to say about it:
"Being a part of the Law & Government Symposium held at the Beehive in Wellington was an unforgettable experience for me, meeting and discussing with important figures of the law who make differences and changes for our country. This opportunity made a monumental impact on myself, not only to hear arguments and points regarding New Zealand Law for the future but also to include my input as the next generation and the youth of New Zealand.
This experience could not have been possible without the support and sponsorship of Mark Hickford the Pro-Vice Chancellor of Law at Victoria University and a past student at Massey High School.
I had also had the opportunity to talk with Kiri Allan, current Minister of Justice about how important it is to have youth present at the symposium so that we can hear and understand what is in the works for topics that could have an impact on our future and the importance of them. An exciting moment looking back was finding out that she had also attended Massey High School for some time and how proud she was to see Massey High School students be a part of this event.
During the symposium I also had the honour to meet and discuss with Sir Geoffrey Palmer, Former Prime Minister of New Zealand and his partner Margaret Hinchcliff. Hearing about his work and time as a member of parliament and as the Prime Minister leading the Fourth Labour Government, and the steps he took to evolving New Zealand through its laws."
Prathna added:
"…it was beneficial from the perspective of a student looking into the field of law as possible career choice. I thoroughly enjoyed asking questions and networking with influential people in the field, it was a valuable learning experience…"
Greer said, "The experience was indescribable! Being able to hear what ideas the panel had to better our government for the future and able to ask questions on how it would benefit our generation was eye opening! The symposium is definitely something for people who want to get into Law and government work to attend."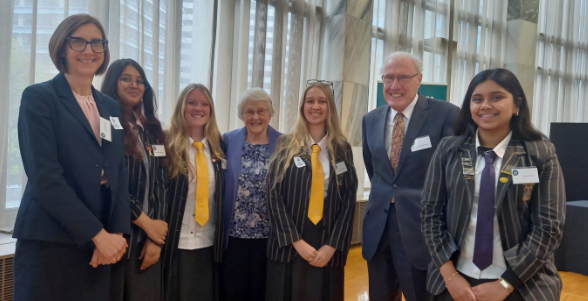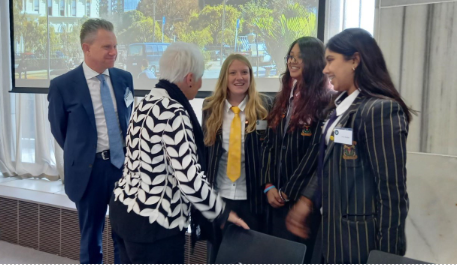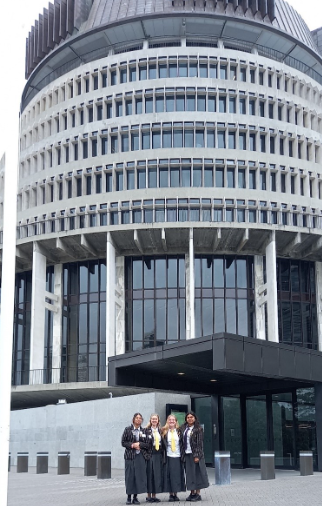 Share this article: