Wellington College Powhiri
Wellington College Powhiri
A contingent of Massey High School staff and students were privileged to participate in a Wellington College pōwhiri on Monday 2nd May for our former principal Mr Glen Denham. Our student attendees included our head prefects Kaycey and Luke, and seven ākonga from our Kapa haka, Taiohi Tātaki, along with principals from other Auckland schools and members of Mr Denham's family.
The trip to Wellington for two kaiako and seven ākonga was in MHS's new 25 seater bus, which had eyes peering with curiosity the whole trip down. Whilst the journey there and back was long, it was filled with experiences that both our kaiako and ākonga won't forget. From the top of the North island to the bottom, they saw Aotearoa's vast landscapes, famous monuments and significant sites.
The pōwhiri was attended by a large number of Wellington College personnel, including ex-headmasters, old boys, board members, parents, teachers and students.
The whole body of Wellington College students performed a Haka for Mr Denham as we transitioned from the formal pōwhiri to the hākari. Our seven ākonga from our Kapa haka, Taiohi Tātaki, stood strong in the eyes of the hundreds waiting on the other side to welcome Mr Denham to his new school, performing fiercely to not only showcase their excellence, but to show the mana that Mr Denham held at the kura and the aroha MHS has for him. With the guidance of Hone Tobin, who stood as kaikōrero, our ākonga showed themselves as the rangatira of tomorrow.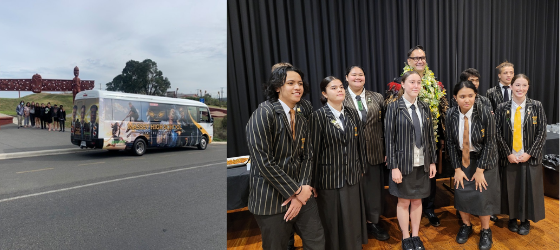 Share this article: